At Rokh Fit Studio you will find a collection of classes designed to increase the strength, flexibility, confidence and overall fitness of every participant.
Choose from an array of fitness-based classes such as Pole, Aerial Yoga, Calisthenics and Pilates.
Our mission is to create a studio where any and every person can enter without feeling intimidated or unwelcome, and leave as a better version of themselves. Rokh Fit encourages a supportive community of men and women who wish to challenge their ideas of their own capabilities.
The studio namesake is derived from a mythological bird of prey found throughout Persian history, known as the Rokh. This enormous bird was told to be strong, powerful and fearless features that embody the essence of what the founders were aiming to create with their studio. Thus, Rokh Fit was born!
Passionate, Qualified Instructors Dedicated To Providing The Highest Quality One-On-One & Group Classes
Phoebe
Founder & Instructor
From age 4 Phoebe has been trained in classical ballet and contemporary dance and went on to dance and perform around. In 2005 on returning to Australia Phoebe took a pole dancing class which started a new love for dancing in the air.
Through pole dance Phoebe has starred in music film clips, has featured on Channel 9 and has performed at numerous corporate events as well as featued in stage shows Cabaret de Paris and Justify my Love.
Phoebe holds a Bachelor of Sport Science and Masters of Physiotherpay and has specialised in Pelvic Health Physiotherapy. She is also mat Pilates and pre and postntal Pilates qualified.
Competition History:
NSQPC 2023 – 1st Place
MPDQ 2022 – Sponsors Choice
Rising All Stars 2015 – 3rd Place
MPDQ 2014 – 2nd Place
Rising All Stars 2014 – 1st Place
QPC 2013 – Ist place
Chloe
Founder & Instructor
Chloe began pole danicng in country Victoria before moving to the Gold Coast. In 2016 opened Rokh Fit with Phoebe and Amy and is now known for her Flow classes.
After several years of teaching experience Chloe's favourite aspects of pole remain watching the students grow and the improvement in their self-esteem, strength, and ability to nail tricks they never thought they could achieve. Above all else, the one thing that keeps her love for pole growing is her Pole Family.
Competition History
Pole Stars 2014 – 3rd Place
Pole Expressions 2014 – 2nd Place
Classic Division Pole Stars 2015 – 2nd Place
Finalist Queensland Pole Championships 2015
Finalist Pole Expressions 2016
Pole Expressions Classic Division 2017 – 2nd Place
Floorplay Finalist 2017
Pole Theatre Comedy Division Finalist 2017
Maddi
Instructor
In 2016 Maddi sat in her car for about 30 minutes trying to convince herself to walk into her first pole class ever. She turned up alone because she wanted to do something that made her feel good and didn't want to rely on someone else. Now you won't find a night at RokhFit without her!
Maddi spends her days at 36,000 feet as a Flight Attendant flying from state to state and waking up way too early. With her 8-inch pole heels tucked into her crew bag, Maddi trains with some of the best pole dancers in Australia including Miss Filly, Carlie hunter and most recently Aletha Austin in Nashville! 
Maddi has an obsession with trying everything from hockey, volleyball, all types of dance, gymnastics, cheerleading, Lyra, silks, trapeze, yoga and she even tried going to the gym (ew). But with persistence in the hope that she would find her "thing" she can finally say she has and it's Pole Dancing!
Ash
Pole Instructor
Ashleigh started with the Rokh Fit family in 2019 with Beginner Pole, Flow and Aerial Yoga. Since then she has found a new love for pole fitness. She enjoys the dance/music and movement combined with physical strength training. During her time at Rokh Fit Ashleigh has joined forces with some other Rokh Instructors to compete in the Pole Expressions, placing second in Group Category 2021. Before starting with Rokh Fit, Ashleigh had 7 years of experience teaching primary school students hip hop and ballroom dancing as part of the school-based curriculum. Teaching children social interaction, direction and timing. Ashleigh says pole is a forever growing and learning experience where the limits are endless and the friendships are forever.
Jess
Instructor
Pole and Aerial yoga have become a huge part of Jess's life since she started at Rokh back in 2019. Jess had various forms of dance in her life from a young age and pole had always been something she'd be interested in trying but never had the courage. After her first 3 class pass, the fuse was lit and away she went – Jess has been training ever since, growing her passion of the industry and becoming part of the Rokh Fit Family. Jess trains Pole, Aerial Yoga + Lyra and recently placed 2nd in the group category of Pole Expressions 2021 alongside 3 other Rokh instructors. She also teaches Beginner Pole and Aerial Yoga. She finds teaching hugely rewarding – being a part of others journeys and experiences as she understands how challenging it can be not only physically but mentally and emotionally. She wants to help make the introduction to pole as easy as possible in hopes that you will fall in love with the sport as much as she has.
Jax
Instructor
Jax brings her Hip Hop and popping robotic dance background to the Rokh family. Jax began pole dancing in 2014 and has gone on to compete and take out a few titles including:

– Australian Pole Stars 2014: Amature
– 1st place in Pole Expression 2015: Pole Story division
– Queensland Pole Championships: Amateur 2015, 2017, 2018
– Essence of Living; Mat Pilates teacher certified
– Always keen for a dance and boogie!
Emma
Pole Instructor
Emma has been pole dancing since 2018 when she signed up for her first class with a friend. From the very first class she fell completely in love with pole. Emma has a background in dance competing nationally in ballroom and Latin dancing, and
trained in gymnastics for a short time at a young age.  Emma loves all things bendy and has also found a passion for dynamic movement and flips.
A year after starting pole, Emma competed in her first competition, the ACT/TAS Pole Championships where she placed first. She then began competing in the professional division and has placed second in the ACT/TAS Championships  and followed on to place third at the Australian Pole Championships in 2020. Most recently, she was awarded Queensland Pole Champion for 2022.
She has a love for teaching pole and has been instructing since 2019. She believes the best part of instructing is watching people grow from their first pole lesson and being able to witness and celebrate students achievements.
Courtney
Pole and Stretch Instructor
Beginning Pole dancing in 2023 Courtney has started strong winning titles in competitions such as Pole Expressions and AAPC. Courtney brings with her extensive knowledge of human movment with a Bachelor of Exercise Science and a Masters of Physiotherapy specialising in paediatrics and women's health.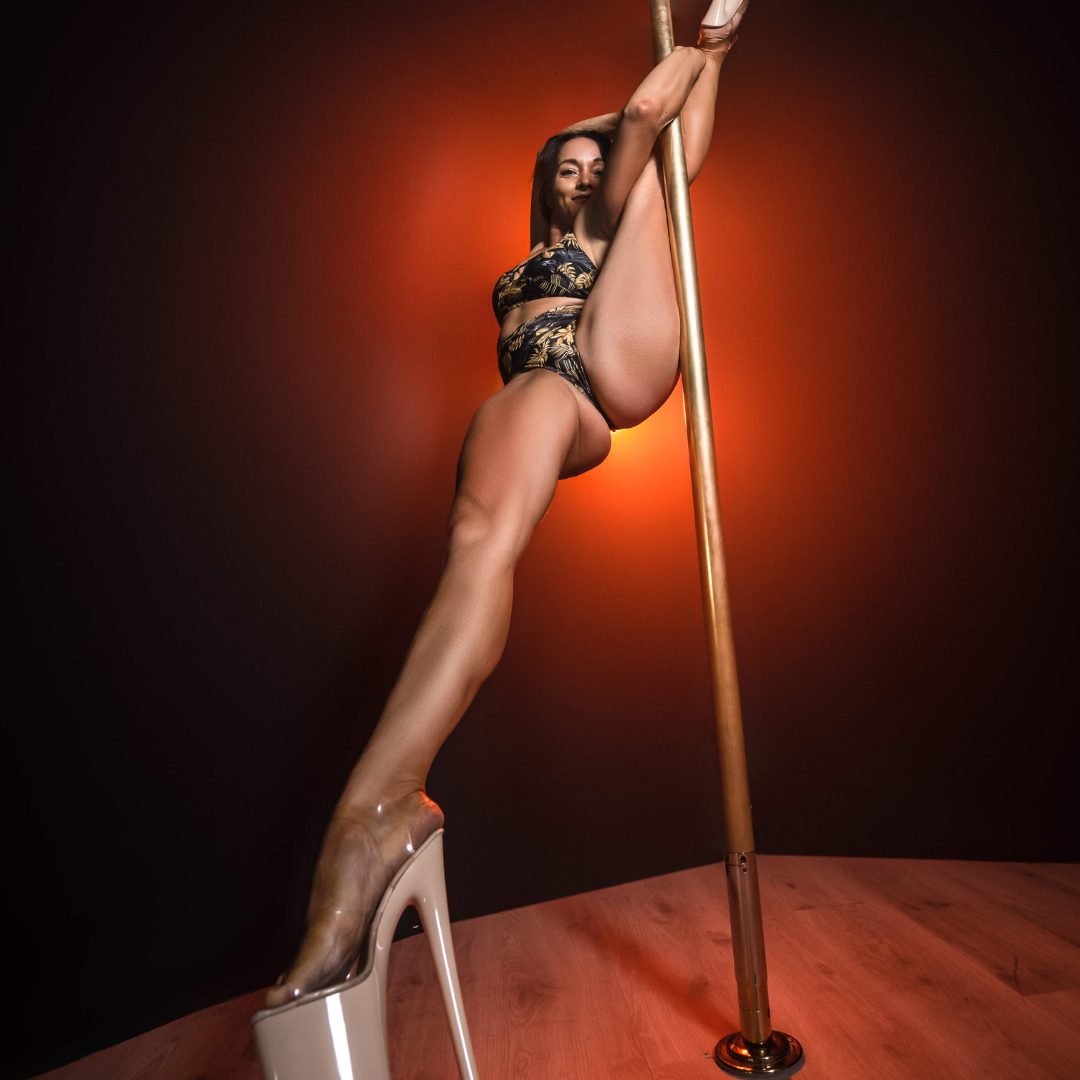 Cece
Pole Instructor
Cece, our Kiwi addition to the Rokh Fit team, has been pole dancing 13 years. Cece was the owner of a boutique studio on the Coromandel Pennsula as well as instructing at Karry Summers' Altitude Studios before relocating to the Gold Coast.
Cece is also the proud owner of Pole Away an online pole boutique store with all the best pole brands.
Teaches:
Beginner Pole
Contemporary Pole, Intermediate Pole, Pre-Advanced Pole, Advanced Pole
Dance History:
Emily
Pole Instructor
My dancing journey began at just three years old in classical ballet. Since then, I have explored all genres of dance including Pole Dancing! The transition from classical ballet to Pole Dancing was hard… Let's just say body rolls did not come easily for me. Pole Dancing has helped me build confidence, strength, flexibility and body positivity. I love teaching and empowering students to grow physically and emotionally through pole dance/fitness.  Come down to the studio and learn to body roll with me!